Graviola-Soursoup the new Anti-Cancer Nutrition?
Researcher findings raises interest in soursop pulp. The fruit has been reported to contain anticancer compounds. The fruit has been studied and first results show that the fruit shows the presence of compounds called acetogenins. Nearly everyone has been touched by cancer in some way or another. Cancer patients are struggling with traditional therapies, and many are looking to alternative ways in order to reverse their diagnosis.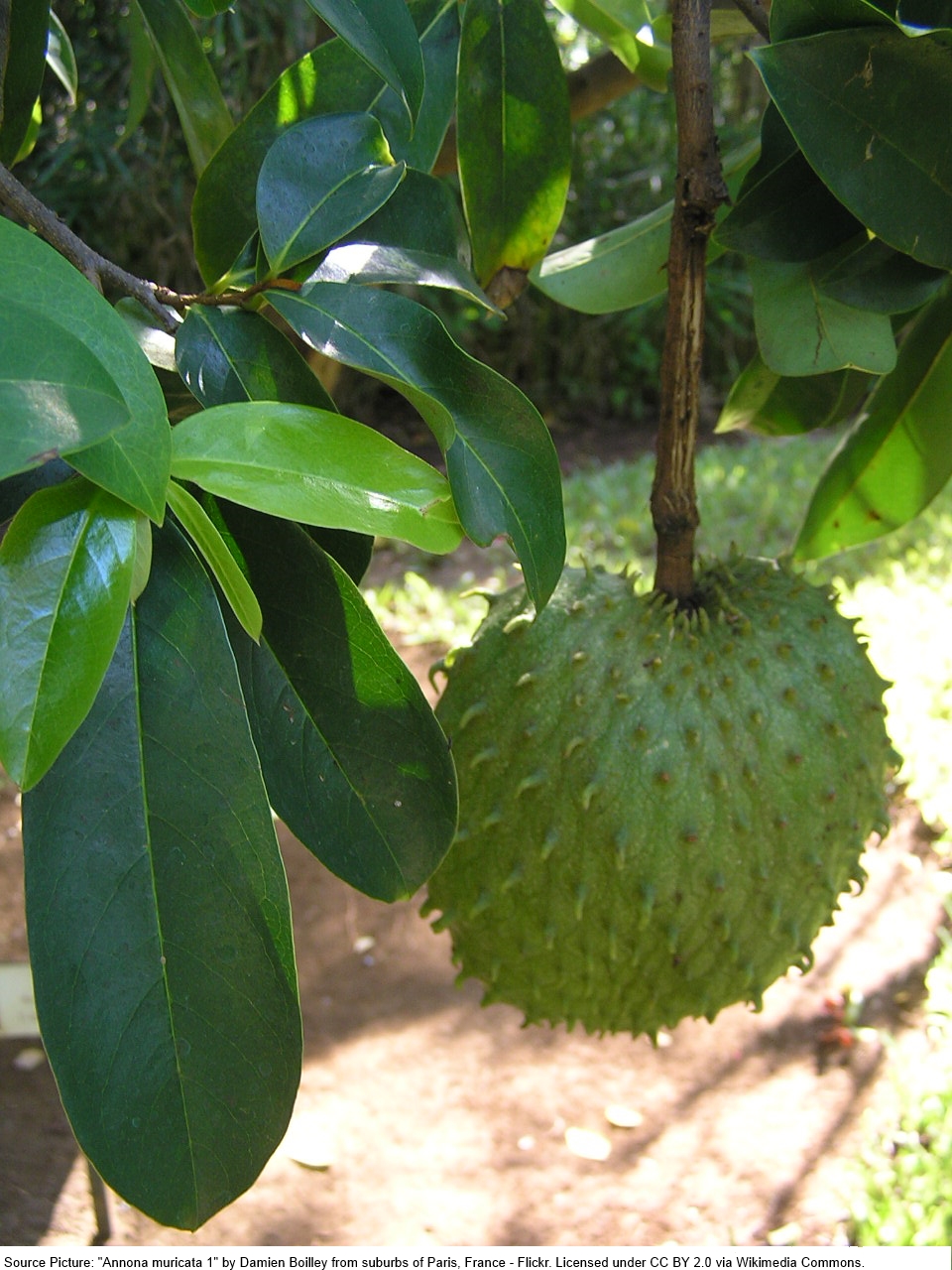 A novel set of chemicals called Annonaceous acetogenins, found in the leaf, stem, bark and fruit seeds, have been confirmed by different and separate research groups to have significant anti-tumorous properties and selective toxicity against various types of cancer cells (without harming healthy cells), at very low doses.

All parts of the graviola tree are used in natural medicine in the tropics, including the bark, leaves, roots, fruit, and fruit seeds. Different properties and uses are attributed to the different parts of the tree. Plenty common names are used for this special fruit: Graviola, soursop, guanábana, guanábano, guanavana, guanaba, corossol épineux, huanaba, toge-banreisi, durian benggala, nangka blanda, cachiman épineux.

Graviola is the fruit of Annona muricata, a broadleaf, flowering, evergreen tree native to Mexico, Cuba, Central America, the Caribbean, and northern South America, primarily Colombia, Brazil, Peru, Ecuador, Venezuela, and Puerto Rico. Soursop is also produced in some parts of Africa, especially in Eastern Nigeria, Southeast Asia and the Pacific. It is in the same genus as the chirimoya and the same family as the pawpaw.
Graviola is a small, upright evergreen tree, 5–6 m high, with large, glossy, dark green leaves. It produces a large, heart-shaped, edible fruit that is 15–20 cm in diameter and green in color, with white flesh inside.

Graviola is indigenous to most of the warmest tropical areas in South and North America, including the Amazon. The fruit is sold in local markets in the tropics, where it is called graviola in Brazil, guanábana in Spanish-speaking countries, and soursop in the United States. The fruit pulp is excellent for making drinks and sherbets and, though slightly sour-acidic, can be eaten out of hand.

Traditional herbal medicine practitioners have attributed graviola with the following properties and actions: anthelmintic, antiparasitic, antipyretic, sedative, antispasmodic, nervine, hypotensive, anticonvulsant and digestive.
Known for its herbal medicine uses
Generally, the fruit and fruit juice are taken for worms and parasites, to cool fevers, to increase mother's milk after childbirth, and as an astringent (drying agent) for diarrhea and dysentery. The crushed seeds are used against internal and external parasites, head lice, and worms. The bark leaves, and roots are considered antispasmodic, hypotensive, and sedative, and a tea is made for various disorders toward those effects. Graviola has a long, rich history of use in herbal medicine as well as a lengthy recorded indigenous use. In the Peruvian Andes, a leaf tea is used for catarrh (inflammation of mucous membranes) and the crushed seed is used to kill parasites. In the Peruvian Amazon the bark, roots, and leaves are used for diabetes and as a sedative and antispasmodic. Indigenous tribes in Guyana use a leaf and/or bark tea as a sedative and heart tonic. In the Brazilian Amazon a leaf tea is used for liver problems, and the oil of the leaves and unripe fruit is mixed with olive oil and used externally for neuralgia, rheumatism, and arthritis pain. In Jamaica, Haiti, and the West Indies, the fruit and/or fruit juice is used for fevers, parasites, and diarrhea; the bark or leaf is used as an hypertension, and parasites. Today, in the United States and Europe, graviola is sold as a popular adjunctive natural therapy for cancer. This use has stemmed from published research on graviola and its naturally occurring chemicals possessing anticancerous actions, rather than its established traditional uses in South America.

Valuable plant agent inside
Many active compounds and chemicals have been found in graviola, as scientists have been studying its properties since the 1940s. Acetogenins has demonstrated selective toxicity to tumor cells at very low dosages, as little as 1 part per million. Four studies were published in 1998 which further specify the chemicals and acetogenins in graviola that are demonstrating the strongest anticancerous, antitumorous, and antiviral properties. Annonaceous acetogenins are only found in the Annonaceae family (to which graviola belongs). These chemicals in general have been documented with antitumorous, antiparasitic, insecticidal, and antimicrobial activities. Mode of action studies in three separate laboratories have recently determined that these acetogenins are superb inhibitors of enzyme processes that are only found in the membranes of cancerous tumor cells. This is why they are toxic to cancer cells but have no toxicity to healthy cells.
Biological activities and clinical studies
In a 1976 plant screening program by the National Cancer Institute, graviola leaves and stem showed active toxicity against cancer cells, and researchers have been following up on these findings since (16). Thus far, specific acetogenins in graviola and/or extracts of graviola have been reported to be selectively toxic in vitro to these types of tumor cells: lung carcinoma cell lines (1,3–6), human breast solid tumor lines (4), prostate adenocarcinoma (9), pancreatic carcinoma cell lines (1, 9 ,12), colon adenocarcinoma cell lines (1, 2, 12), liver cancer cell lines (17–20), human lymphoma cell lines (21) and multi-drug-resistant human breast adenocarcinoma (22). Researchers in Taiwan reported in 2003 that the main graviola acetogenin, annonacin, was highly toxic to ovarian, cervical, breast, bladder and skin cancer cell lines at very low dosages, saying "annonacin is a promising anti-cancer agent and worthy of further animal studies and, we would hope, clinical trials." An interesting in vivo study was published in March of 2002 by researchers in Japan, who were studying various acetogenins found in several species of plants. First they inoculated mice with lung cancer cells. Then, one third received nothing (the control group), one third received the chemotherapy drug adriamycin, and one third received the main graviola acetogenin, annonacin (at a dosage of 10 mg/kg). At the end of two weeks, five of the six in the untreated control group were still alive and lung tumor sizes were then measured. The adriamycin group showed a 54.6 percent reduction of tumor mass over the control group but 50 percent of the animals had died from toxicity (three of six). The mice receiving annonacin were all still alive, and the tumors were inhibited by 57.9 percent slightly better than Adriamycin and without toxicity. This led the researchers to summarize: "This suggested that annonacin was less toxic in mice. On considering the antitumor activity and toxicity, annonacin might be used as a lead to develop a potential anticancer agent. "Other studies over the years have validated some of graviola's other uses in herbal medicine. Several early studies demonstrated that the bark as well as the leaves had hypotensive, antispasmodic, anticonvulsant, vasodilator, smooth-muscle relaxant, and cardiodepressant activities in animals (25, 26). Researchers verified graviola leaf's hypotensive properties in rats again in 1991 (27) Several studies over the years have demonstrated that leaf, bark, root, stem, and seed extracts of graviola are antibacterial in vitro against numerous pathogens (28–30) and that the bark has antifungal properties (30,31). Graviola seeds demonstrated active antiparasitic properties in a 1991 study, which validated its long standing traditional use (3, 2) and a leaf extract showed to be active against malaria in two other studies (in 1990 and 1993) (33,34). The leaves, root, and seeds of graviola demonstrated insecticidal properties, with the seeds demonstrating strong insecticidal activity in an early 1940 study (35). In a 1997 clinical study, novel alkaloids found in graviola fruit exhibited antidepressive effects in animals.